Founded in 1992, Main Plan Limited specializes in innovative designs of brass faucets and bathroom accessories. Being the leading manufacturer in industry, we do export business for over 20 years to more than 40 countries across the world.
Business Philosophy & Mission
Innovation, professionalism with high quality is the core value of our company. We strongly devote our efforts in developing top quality and contemporary designs of faucets and bathroom accessories at competitive prices for medium to highend markets, while complying with major European quality standards.
Our factory is located at Ningbo, China. We have recently expanded our production base to 40,000 squaremeters. Our team of professionals specializes in areas of Research and Development, Production, Engineering Support and Quality Control.
International Exhibitions
The most well-known exhibitions are the Kitchen & Bath China 2015 held at Shanghai, the ISH Exhibition Frankfurt, and the Canton Fair. Delong China presents her good quality living to everyone for making their home a better place.
To produce high quality household and bathroom products, our factory is equipped with state-of-the-art manufacturing machines from Europe, including:
The IMR Gravity Die-Casting Machines from Italy
Automatic Core Blowing Machines
CNC Machine Centre
Automatic Drilling & Tapping Machine
X-Ray Electroplating Thickness Testing Machine
Spectrometer from Germany
This is to ensure our faucet production is of high accuracy and precision, while conforming to international standards such as EN817, EN246, EN200, EN248 and EN1111
Professionalism & Quality :
We employ competent and professional technicians to monitor each of our production phases. Starting from raw materials procurement, inspection, production to quality inspection. Our technicians play very prominent roles to fulfill our high product quality.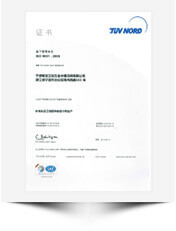 ISO9001:2008
The Quality Assurance System being implemented at our production site is basically designed and operated in accordance with TUV ISO 9001 specification for design, manufacture and installation, as well as with significant additional features exceeding the minimum requirement. To accredit our production quality, in Sept 2010, we were successfully awarded with the Certificate by TUV Nord.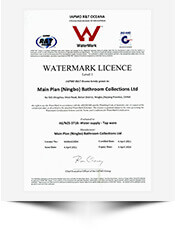 Certificate of WaterMark for Australian Market
To achieve recognition and professionalism in this sanitary ware market, Watermark certificate (DR Brass) is accredited to promote the use of acceptable components in water and sanitation installations in the interest of water conservation, health, safety and the prevention of water pollution.
Moreover, Watermark Certificate is a key step for the following WELS Registration (Water efficient products-Rating and labeling), which is mandatory for the sanitary ware industry in Australian market. In April 2011, we were successfully awarded with the Certificate of WaterMark for Australian market.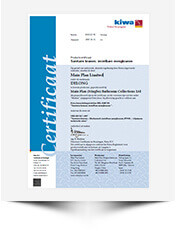 Certificate of KIWA
To support our globalization strategy in sanitary ware market, we aim at achieving the most suitable compliance of our products specification with worldwide acceptance standards within the industry.
Our faucets are not only the best, but also the most suitable for our customers. As being the manufacturer from China accredited by KIWA, the most-respected QA institute in Europe, we are confident to satisfy the standard of different European nations, like Germany and France, or even any nation in the world. In Oct 2007, we were successfully awarded with the Certificate of KIWA.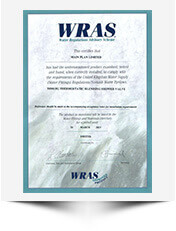 Certificate of WRAS & TMV2 for British Market
To maintain our competitive and professionalism in this sanitary ware industry, WRAS certificate and TMV2 testing are achieved with the confirmation to satisfy the special requirement for British markets as well as giving more enough confident for British customers.
In March 2010, we were successfully awarded with the Certificate of WRAS & TWV2. This recognition gives us absolute confirmation of our high quality faucets in market.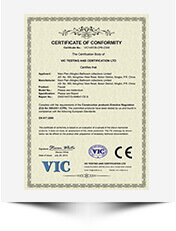 CE Certificate for Europe
While our products are widely-sold in Europe, our CE Approval is helpful in distinguishing our products as recognizable and conformed for sales in the European Economic Area (EEA). The award of the CE certificate means our products meet the requirements of the applicable EC directives (i.e. EN standards EN817, EN246, EN248, etc.), in Sept 2013, we were successfully awarded with the CE certificate.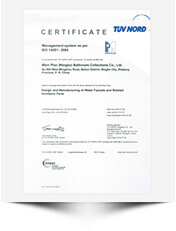 ISO 14001:2004
Main Plan Ltd is always aware of her social responsibility of environmental protection. We have thus established our own environmental management system to ensure not only our products but also production goes friend with our Earth. In July 2014, we were successfully awarded with the Certificate by TUV Nord.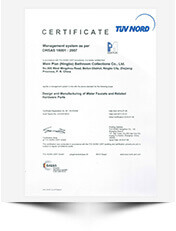 OHSAS 18001:2007
Apart from the natural resources, people remain the most valuable endowment within our company. Main Plan is staying abide by her business ethics, ensuring the staff with safe & healthy lives in work. In observation of the international standards, we have also established our own Occupational Health & Safety Management System and a Certification was awarded in July 2014.
Design Registration
Being a professional manufacturer, we are not just simply contributing a quality product but our innovative designs. We keep launching new designs to help creating new trends for the market. The new designs are registered in EU & HK. Numbers of registered products have reached 1,000 in EU, 700 in HK and 600 in China respectively. These numbers are growing up as we keep brainstorming for more new items for customers.
1992
Main Plan Limited was established in Hong Kong
Delong Bathroom (Guangzhou) Limited was established
Our new plant was built in Ningbo
Obtained Certification from ISO9001:2008
Obtained Certification from Kiwa, Netherlands
Obtained Certification from WaterMark, Australia